We believe in providing the highest level of living and comfort.
Skilled Nursing in Cromwell, CT: Health for mind, body and spirit.
For those who require Skilled Nursing services, Pilgrim Manor at Covenant Living of Cromwell offers far more than care. We endeavor to fulfill the lives of our residents by ensuring that they maintain the highest levels of health for mind, body and spirit.
Long-term care
Respite care
Hospice care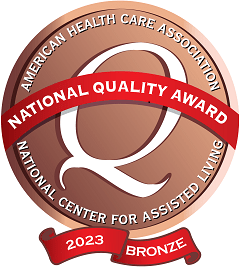 Available Services
State-of-the-art nursing care available 24 hours a day
Medicare-certified
IV therapy
Wound care
Diabetes management
Pain management
Discharge planning
Consultant services including dental, podiatry and audiology
Rehabilitative therapies, including physical, occupational and speech
Pharmaceutical services
Wheelchair-accessible transportation
Feeding tubes, oxygen and suctioning
Residences
Private suites with bath
Semi-private suites with bath
Dining
Three meals daily with entrée selection
Dietician consultant
Dining Assistance and special diets accommodated
Keep in mind, you do not have to be a current resident of our retirement community to benefit from our Assisted Living, Memory Care, Skilled Nursing or short-term Rehabilitation services, nor will you have to pay an entrance fee to enter one of the areas noted above. In our short-term Rehabilitation program, we accept Medicare and are in-network providers for a number of managed care and Medicare Advantage programs.
To learn more about our services, please click here to contact us online or call us at (877) 344-4320.
For the latest Covenant Living Coronavirus update, please click here.